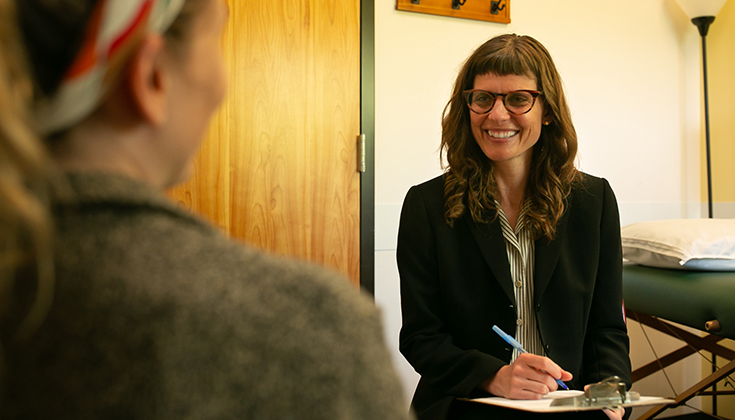 As a client or patient, you will have a nutrition assessment conducted by our nutrition student interns and supervised by a licensed clinical nutrition practitioner.
Our clinical nutrition services provide an ongoing big picture approach needed to identify nutrition-related problems and their causes. This approach includes looking at diet history, lifestyle, behavior, signs and symptoms, personal, social, and family health history, and laboratory tests.
The clinical nutrition team will determine the underlying nature of the nutrition-related health issues, including health risk factors, that provide a roadmap for evidence-based personalized treatment, setting realistic and measurable outcomes, and monitoring progress in attaining your health and nutrition goals.
Clinical nutrition appointments and continued care will be offered throughout the year, so you feel supported in your nutrition-related transition.
Services provided:
Personalized nutritional assessment, dietary review
Supportive nutrition approach which includes education, counseling and ongoing care for specific health concerns
Recipes and meal planning using food as medicine
Grocery shopping lists
Healthy eating strategies for all ages
Food preparation recommendations
Personalized nutrition monitoring and evaluation
Meet Our Clinical Nutrition Providers

• Telemedicine on Wednesdays
• In the clinic on Fridays
Dulcie Childs specializes in a whole-person approach to nutrition, believing people can use nourishing food, self-care and a positive state of mind to approach their wellbeing. She feels that eating well can be fun and delicious, and enjoys educating and inspiring others. She is a registered dietitian (licensed in Oregon) and earned her Master in Nutrition Science from the University of Alabama and Bachelor of Science in Nutritional Sciences from Cornell University. Her professional journey has included time spent as an outpatient/private practice dietitian, nutrition policy advocate, and small food business owner. She supervises the nutrition clinic shift and teaches the Business of Nutrition, Childhood Nutrition and Obesity, Metabolic Syndrome and Diabetes courses.