During this time of uncertainty, there are steps we can take to help ourselves, our families and loved ones. Chinese diet therapy has long been practiced and is an integral part of Chinese medicine in promoting health. The focus of this part of Chinese medicine has always been on achieving good digestion, so we can nourish ourselves. Chinese diet therapy can support other organ systems such as the respiratory system. One question we might have at this moment is how do we build up our immune system. In part, it is through eating a healthy and nourishing diet and resisting eating foods that are either processed, sugar laden or devoid of nutritional value. It is eating real food. Let's consider ways we can incorporate Chinese dietary and overall health practices into our lives.
Promoting Good Digestive Health
These are recommendations that may be familiar to you and are always worth repeating.
Eat a variety of fresh sources of foods. Eat a variety of fruits and vegetables every day. You may decide to have a variety of different tastes and different colored fruits and vegetables. These different colors and tastes may correspond to different nutrients found in the foods.
Eat in a relaxed manner. Enjoy your food. This allows for greater digestion. Try to not do any work or look at the news during meals.
Slow down your eating. Chew your food more. This allows the amylase enzyme in your mouth to begin to break down carbohydrates.
Finish eating 2 hours before going to bed. This allows the digestive system to regenerate. It helps our leptin hormonal levels at night. This hormone helps regulate weight. Also, human growth hormone is more active when we have a good night sleep and refrain from eating a couple of hours before going to bed.
Eat more fruits and vegetables. Try to make at least 2/3s of your diet fruits and vegetables. The remaining 1/3 can be protein and grains.
Eat real food. Try to avoid processed foods which have a much lower nutritional value.
Include probiotic foods. These are fermented foods such as sauerkraut, kimchee and miso. Fermented foods naturally help us to digest our food better. They reduce the amount of dampness in the body and can help with the lung health.
Prepare foods with care. In Chinese medicine, cooking foods adds a lot of nutritional value. It helps to make many nutrients more available to digest. If you find that eating a lot of raw foods such as salads gives you digestive problems such as loose stools, it may be too much for you. Gently sautéed vegetables are both delicious and very appealing.
Find your ideal way to eat. Ask yourself how you feel after eating certain foods. Do they make you feel satisfied? Do they make you feel energized? Do they make you feel sleepy or foggy headed? Do they make you feel bloated? Do they give you other digestive issues?
Keeping our Immune System Strong
In keeping our immune system strong, we should consider several aspects of diet therapy. You may already be preparing dishes with these foods. Each of these represent types of foods that promote good digestive health and help the body's immune system.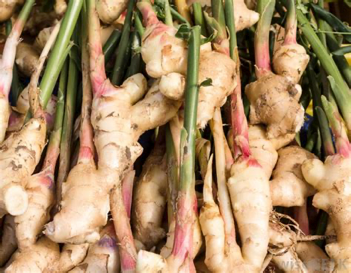 GINGER
Ginger has been used in Chinese medicine for colds and flus. It is often added to formulas to help with our overall digestion due to its warming and moving qualities. It also has an effect on warming the lungs and helping to reduce cough due to mucus build up. It is commonly used to neutralize the toxins in seafood.1 You may notice that it is pickled ginger that is provided when eating in Japanese restaurants. According to research, ginger has strong anti-inflammatory and antioxidant effects.2 It has also been studied in relation to viral infections and its protective effects on the lung infections.3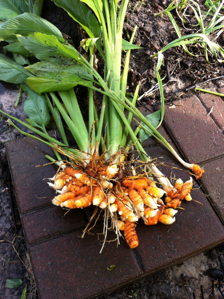 TURMERIC
Turmeric is related to ginger situated in the Zingiberaceae family. Similar to ginger, it supports circulatory and digestive systems and alleviates joint pain. It can be used in teas and is used in many recipes. In Chinese medicine, turmeric is considered a blood mover. Modern research shows that turmeric has a wide range of biological actions. These include turmeric's anti-inflammatory, antibacterial, antifungal and antiviral. It has beneficial effects on the stomach, liver, gall bladder, intestines and pancreas. It benefits the nervous system, lipid metabolism. It is used to treat wounds, cough and sinusitis.4
Notes: It is also used with caution in high doses with blood thinning medications such as the anticoagulant, Coumadin, and even aspirin.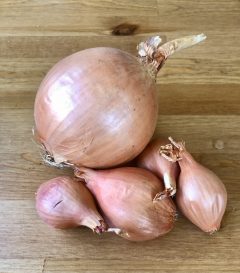 ALLIUMS
This family of vegetables include garlic, onions, scallions, leeks, chives and shallots. One of the components found in all of these is allicin, a sulfur compound that is antiviral, antibiotic and antifungal.5 Flavinoids found in garlic and onion have strong inhibitory effects on viruses. Quercetin which is found more in onions has also demonstrated a strong antiviral activity. Both allicin and quercetin help to inhibit viral replication. Quercetin is also able to help reduce the inflammatory process of a cytokine over-activity which in present cases of COVID-19 might result in Acute Respiratory Distress Syndrome (ARDS )6,7
Notes: Some people take raw ginger and garlic everyday to help protect themselves. One way to do this is to add crushed garlic to soups at the end of cooking. You can make a garlic vinaigrette with garlic, vinegar and olive oil for salads. Grated ginger can be added to porridge or other vegetable dishes. Some people take raw ginger and garlic straight up. You should not do this if you have any acid reflux. All things should be done in moderation!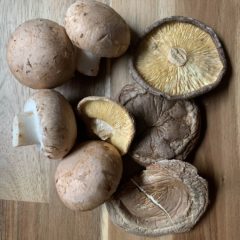 MUSHROOMS
Mushrooms are a great way to help boost your immune system. Various studies demonstrate that different kinds of mushrooms have an anti-microbial action.8,9 Some mushroom varieties have been used to boost one's immunity in fighting cancer, such as maitake, coriolus and reishi. Others help with lung capacity such as cordyceps and with brain health such as lion's mane.10 Research shows that mushrooms have a beneficial effect on fighting viruses.11
Check out Ken's healthy recipes here!
Ken Glowacki, DACM, LAc, is a full-time faculty member and clinical supervisor at NUNM. He actively uses Chinese medicinal principles in cooking as well as giving dietary advice to patients. He uses a variety of treatment modalities including acupuncture, Chinese herbs, essential oils and bodywork.
He loves to take long walks with his dog, hike, garden, travel, and cook and share meals together with family and friends (when not social distancing).
References
1. Chen JK, Chen TT. Chinese Herbal Formulas and Applications: Pharmacological Effects & Clinical Research. City of Industry, CA: Art of Medicine Press; 2009.
2. Mashhadi NS, Ghiasvand R, Askari G, Hariri M, Darvishi L, Mofid MR. Anti-oxidative and anti-inflammatory effects of ginger in health and physical activity: review of current evidence. Int J Prev Med. 2013;4(Suppl 1):S36–S42.
3. Chang JS, Wang KC, Yeh CF, Shieh DE, Chiang LC. Fresh ginger (Zingiber officinale) has anti-viral activity against human respiratory syncytial virus in human respiratory tract cell lines. Journal of Ethnopharmacology. 2013;145(1):146-151. doi:10.1016/j.jep.2012.10.043.
4. Wood M. The Earthwise Herbal: a Complete Guide to New World Medicinal Plants. Berkeley, CA: North Atlantic Books; 2009.
5. Neha Sharma. (2019). Efficacy of Garlic and Onion against virus. International Journal of Research in Pharmaceutical Sciences, 10(4), 3578-3586. https://doi.org/10.26452/ijrps.v10i4.1738
6. Mehta P, Mcauley DF, Brown M, Sanchez E, Tattersall RS, Manson JJ. COVID-19: consider cytokine storm syndromes and immunosuppression. The Lancet. 2020;395(10229):1033-1034. doi:10.1016/s0140-6736(20)30628-0.
7. Tang J, Diao P, Shu X, Li L, Xiong L. Quercetin and Quercitrin Attenuates the Inflammatory Response and Oxidative Stress in LPS-Induced RAW264.7 Cells: In Vitro Assessment and a Theoretical Model. BioMed Research International. 2019;2019:1-8. doi:10.1155/2019/7039802.
8. Dai X, Stanilka JM, Rowe CA, et al. Consuming Lentinula edodes (Shiitake) Mushrooms Daily Improves Human Immunity: A Randomized Dietary Intervention in Healthy Young Adults. Journal of the American College of Nutrition. 2015;34(6):478-487. doi:10.1080/07315724.2014.950391.
9. Lindequist U, Niedermeyer TH, Jülich WD. The pharmacological potential of mushrooms. Evid Based Complement Alternat Med. 2005;2(3):285–299. doi:10.1093/ecam/neh107
10. Stamets, P. Novel Antimicrobials from Mushrooms. HerbalGram. http://cms.herbalgram.org/herbalgram/issue54/article2167.html?ts=1585440253&signature=bd9e464bc1e13164215a7cc901b58268. Accessed March 29, 2020.
11. Ellan K, Thayan R, Raman J, Hidari KIPJ, Ismail N, Sabaratnam V. Anti-viral activity of culinary and medicinal mushroom extracts against dengue virus serotype 2: an in-vitro study. BMC Complementary and Alternative Medicine. 2019;19(1). doi:10.1186/s12906-019-2629-y.
Additional References
Goldsmith E, Klein M. Nutritional Healing with Chinese Medicine: 175 Recipes for Optimal Health. Toronto, Ontario: Robert Rose Inc.; 2017.
Ody P, Lyon A, Vilinac D. The Chinese Herbal Cookbook: Healing Foods for Inner Balance. Trumbull, CT: Weatherhill; 2001.
Pitchford P. Healing with Whole Foods: Asian Traditions and Modern Nutrition. Berkeley, CA: North Atlantic Books; 2009.
Wang Y, Sheir W, Ono M. Ancient Wisdom, Modern Kitchen: More than 150 Recipes from the East for Health, Healing, and Long Life. Cambridge, MA: Da Capo Lifelong; 2010.